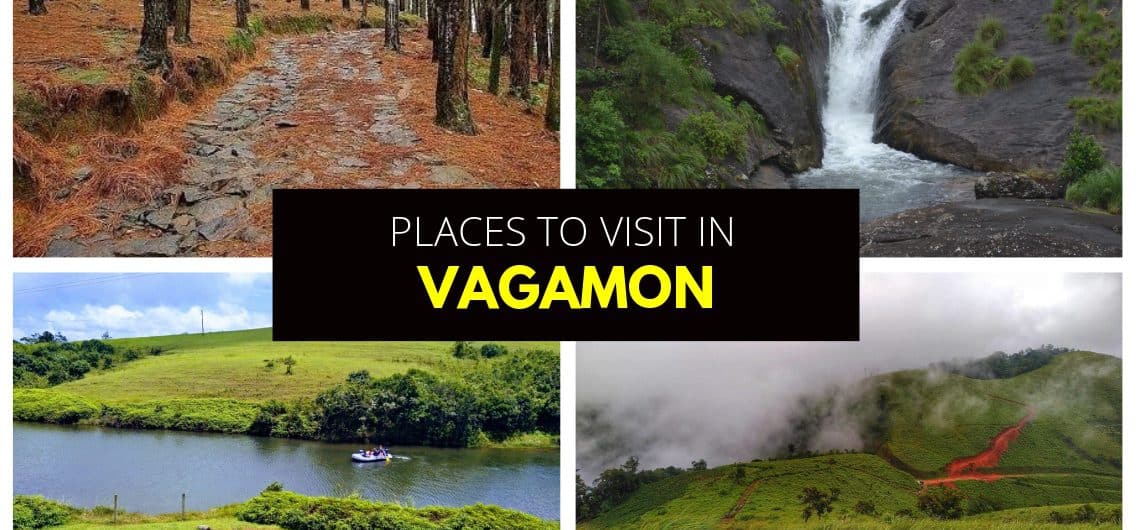 The fresh cool mountain air, murmuring Pine forest, roaring cascades of water, rolling meadows welcome you to Vagamon - the Scotland of Asia! A small hill station in Idukki district of Kerala lying towards its border with Kottayam. Vagamon is also called as a sleepy town due to the lack of commercialization, quite the opposite to that of Munnar. The easily accessible location and the revitalizing experience of this small town make it a must-see place in the itinerary of all the tourists visiting Gods own country. 
Vagamon is at 1,100 metres above sea level, and a cool climate prevails here with temperatures ranging between 10-23°C even during Summer. Experience eternal bliss and peace of mind at the Vagamon hills. This hill station that offers you to nature and spiritual harmony. Thangal Para, the Indo-Swiss Project and Kurisumala Ashram, a beautiful series of hillocks, valleys and cascading waterfalls make Vagamon the ideal getaway for tourists! 
Going for a complete package that includes Vagamon, Munnar, Thekkady and Kovalam is the best way to enjoy the Kerala greenery.
Why visit Vagamon?
If you are a nature buff, Vagamon, Kerala is the place for you! A carpet of green covers Vagamon - The greenery of the wide-spread Tea gardens, beautiful meadows, deep ravines and dales all add to the beauty that is Vagamon! Here you get to see an endless line of lush green hills, breathtaking valleys and meandering rivulets which are the best places to see in Vagamon. Reaching Vagamon itself is an incredible experience! The winding road to Vagamon is cut in solid rock and fringed with pine forests. And as you travel through green capped hills, the rolling plains come into view thousands of feet below.
Nature lovers can take a walk along the narrow, mist covered zigzag roads that wind up the hills. For adventure seekers, there is no shortage of options in Vagamon - Trekking, Pedal boating, Paragliding or Rock climbing.
Come to Vagamon,  rejuvenate yourself and cherish the memories of a holiday well spent on this spectacular land!
For free travel consultation through WhatsApp. Contact us now.
Options: Swift DZire, Innova, Tempo Traveller (12 to 19 Seater), Coaches.
Where is Vagamon?
Vagamon is a tiny plantation township in Central Travancore, located in the Kottayam- Idukki border of Kerala. Situated at an altitude of 1,100 metres above sea level, Vagamon is a favourite hotspot for tourists visiting Kerala. It is also an off-road biking destination.
How to reach Vagamon?
 Air:The nearest airport to reach Vagamon is the Cochin International airport that lies at a distance of 150 km from Vagamon.
Rail:Kottayam Railway Station is the nearest Railway station to Vagamon.
Road: Erattupetta is the closest town, situated at a distance of 25 km from Vagamon. 
What is the best time to visit Vagamon?
Vagamon is an all-season destination and can be visited throughout the year. The Vagamon weather is delightful due to its high altitude with temperatures always lying between 10 to 250C. 
Monsoon Season: Heavy rainfall occurs during this season from June to September and makes travelling difficult. But many eco-tourists prefer visiting the town during monsoon. The rolling meadows of Vagamon look their beautiful best just after showers on a rainy day.
Winter: One of the best times to visit Vagamon is during the winter seasons, October - March. The weather in the winter season is quite cold as the temperature ranges from 10 to 220C. You can go hiking & Tea plantation tours in winter.
Summer: Vagamon in Summer (March - June) has pleasant weather as temperature ranges between 10 to 250C. A perfect time to go mountain hiking, for elephant riding and also paragliding festivals.
For free travel consultation through WhatsApp. Contact us now.
Options: Swift DZire, Innova, Tempo Traveller (12 to 19 Seater), Coaches.
What are the best places to see in Vagamon?
Vagamon Meadows Lake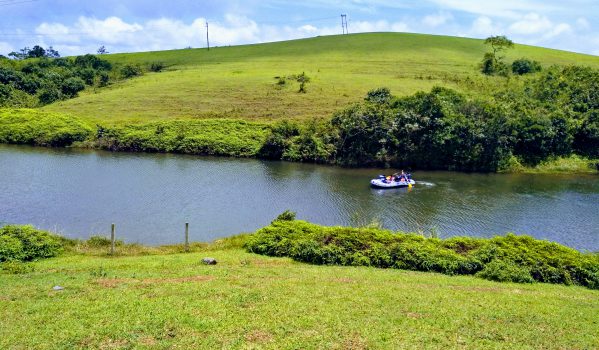 One of the top Vagamon visiting places you can go along with family-a gem of nature located in the middle of Vagamon meadows. The lake adds to the charm of the lush green fields. The cool breeze which blows in the lake calms the mind and makes you relaxed-a superb place to get lost in the scenic beauty of nature. Boating facilities and water balloon riding are offered at the Vagamon Meadows lake.
Tea Lake Boating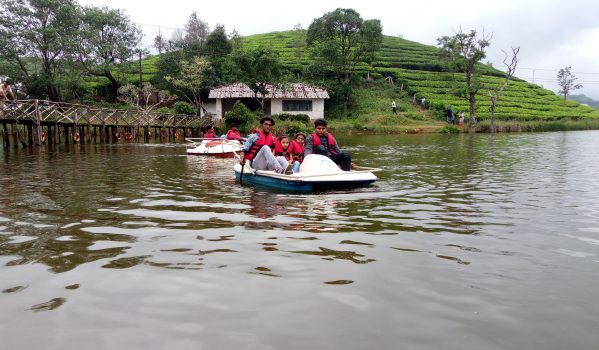 A great adventure sport in Vagamon! You can hire a pedal boat for Tea Lake Boating in the artificial lake set amid a small tea plantation. It would need a bit of expertise as controlling the boat is difficult in the high winds.  Life jackets are provided. Indeed, the right spot for photography as you can take the boat close to the tea plantation and click some good photos with the tea plantation backdrop. You can also walk along a wooden bridge and take some pictures.
Kurisumala Ashram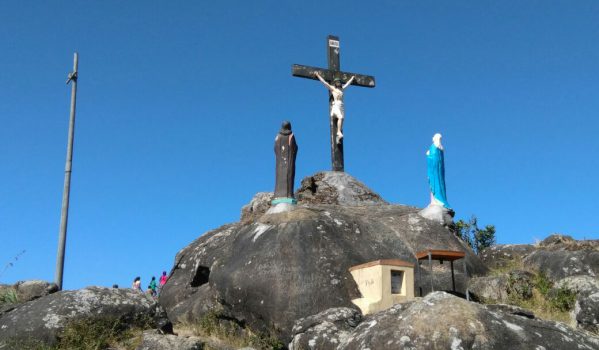 One of the most popular tourist spots in Vagamon! Kurisumala is a popular Christian pilgrimage site located at the Kottayam-Idukki border. It is visited by followers all through the year.  The monastery of the Syro-Malankara Catholic church is situated at an elevation of 4000 feet above sea level & was set up in 1958. Kurisumala is also known as the Mount of transfiguration, all those who visit this place attain inner peace and feel good. The area houses a community of spiritual monks. It is crowded, especially during the Good Friday week as followers come from various parts of the country to climb up the hills with wooden crosses.  
For free travel consultation through WhatsApp. Contact us now.
Options: Swift DZire, Innova, Tempo Traveller (12 to 19 Seater), Coaches.
Murugan Mala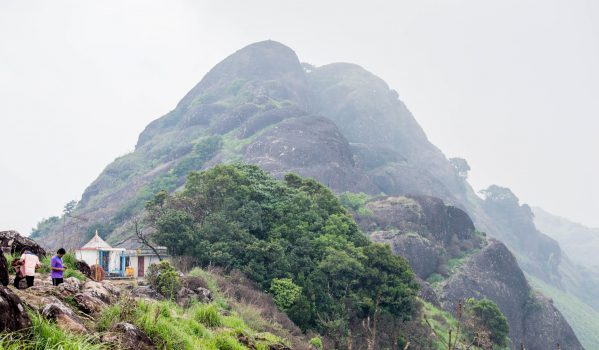 Get the blessings of Lord Muruga at Murugan Mala, a scenic hill in Vagamon! Murugan Mala is renowned for its magnificent rock-cut temple dedicated to Lord Murugan, which is set in a picturesque backdrop of nature. The perfect atmosphere & scenic landscape are significant attractions that drive people to this temple. The location is good for nature walks and sightseeing.
Karikadu View Point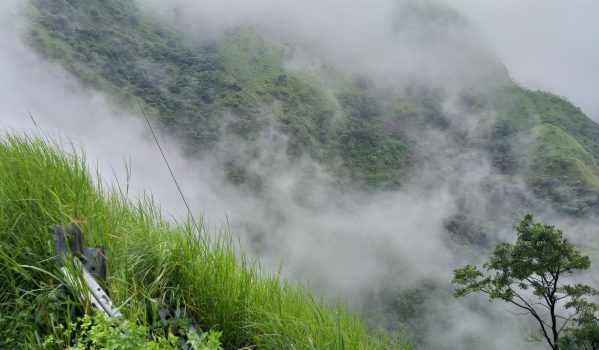 A well-known tourist spot and landmark in Vagamon! The Karikadu viewpoint is situated at Vagamon-Erattupetta Road. The fantastic view of the hilly landscape and valleys is the main attraction here. A beautiful place with a cooling atmosphere it is a must-visit in Vagamon.
Vagamon Pine Forest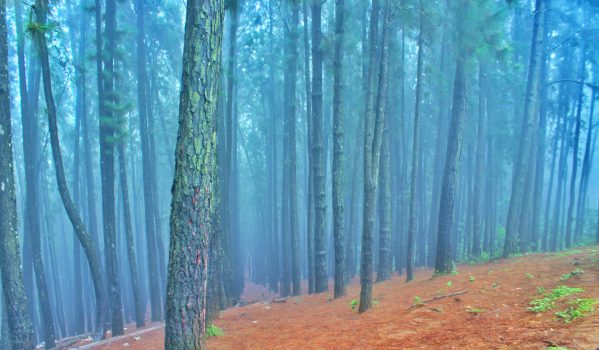 A panoramic setting for the movies is the pine forest of Vagamon which was created during the British era. Located in the Vagamon Elappara route, this enchanting valley of Pine trees is a significant tourism hotspot for visitors to Vagamon. 
For free travel consultation through WhatsApp. Contact us now.
Options: Swift DZire, Innova, Tempo Traveller (12 to 19 Seater), Coaches.
Eagle View Point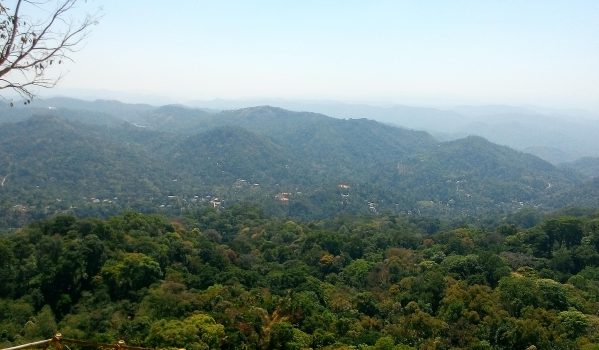 Calling all Adrenaline junkies! Be ready for a breathtaking view of Vagamon! Eagle point is surrounded by lush green landscape along with rocky highlights and is a most visited Vagamon attraction. Eagle Point has a beautiful hill slope and terrain to set up a camp. The wind speed here is mild, but there is rapid fog movement.
Thangalpara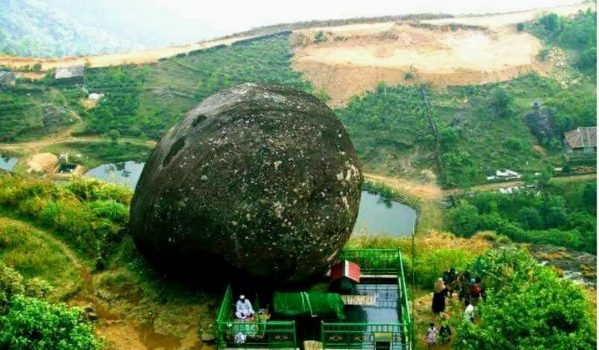 One of the most sacred places for Muslim pilgrims in Vagamon! Thangalpara is a large boulder of rock from which you get a jaw-dropping view of the Vagamon town and the areas around it.
It is also considered as a Pilgrim centre as it is the resting place of Sufi saint Hazrat Sheikh Fariduddin Baba. Here a small prayer centre has been constructed for the pilgrims and tourists are also allowed to visit the place.
Vagamon Kurishumala Church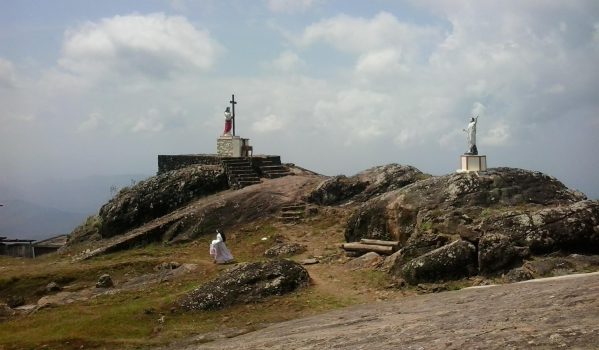 The  Syro-Malankara Catholic church owns the Kurishumala Monastery. The church is situated on top of a hill. On Good Friday, that marks the crucifixion of Jesus Christ, and pilgrims walk up to the monastery while saying their prayers. The devotees consider this as an act of sharing the sufferings that Christ went through. 
Vagamon Orchidarium & Floriculture Project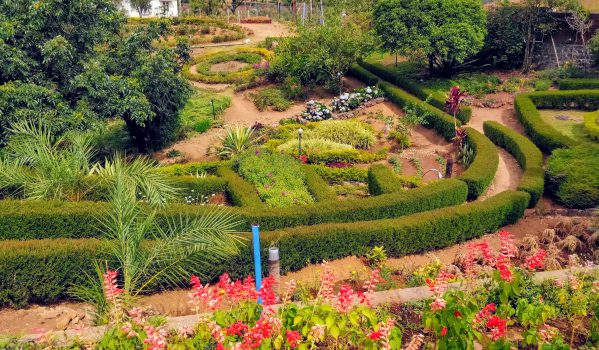 Go for an enchanting tour at Vagamon Orchidarium and Floriculture Project - a real paradise for botanists and for those who love flowers! Just a few kilometres away from Vagamon town, the Orchidarium is a must-see Vagamon attraction.  There are many varieties of flowers, especially 3000+ varieties of orchids and 200+ varieties of roses in a well laid out and well-maintained garden at the Orchidarium. The landscaped gardens are spread over 15 hectares land, the garden he landscaping is well done with proper walkways, check dam, benches to sit and relax etc. You can also get forest products like Sandalwood and oil, Lemongrass oil, Eucalyptus oil etc. 
For free travel consultation through WhatsApp. Contact us now.
Options: Swift DZire, Innova, Tempo Traveller (12 to 19 Seater), Coaches.
Palozhukumpara Waterfalls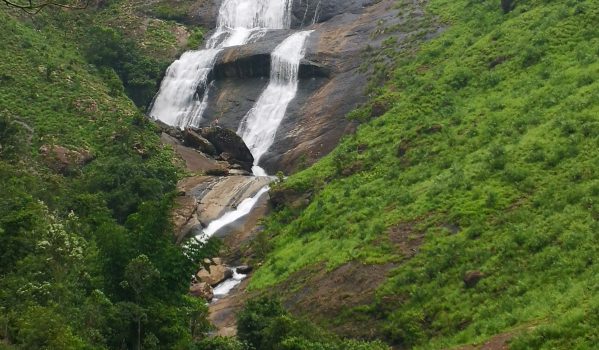 A waterfall that looks like a flow of milk!  Palozhukumpara Waterfalls 6-7 km from the barren hills of Vagamon gives out a very scenic view. The beautiful falls are definitely worth the drive!
Uluppuni View Point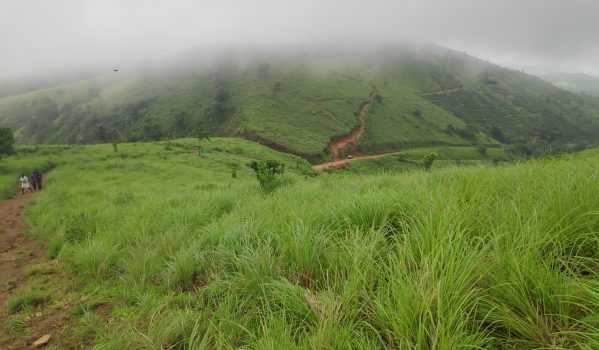 An off-road bike ride in your plans? Uluppuni is your perfect choice! Uluppuni located 10 km from Vagamon towards the Pullikkanam route is a spectacular green paradise with a breathtaking ambience. The significant attractions of Uluppuni are the picturesque meadows and the enchanting view of Kulamavu Dam reservoir covered by the reserve forest. It is one of the emerging off-roading tourist destinations near Vagamon. Jeep safaris are also available here.
Memuttam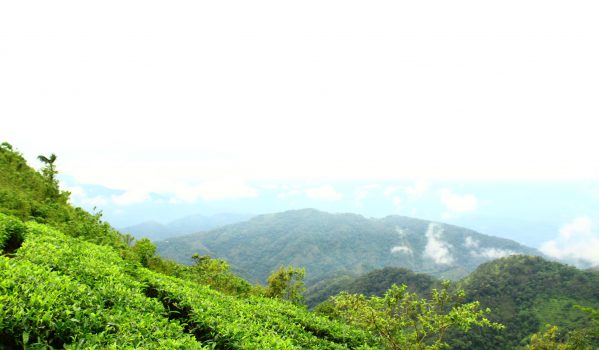 Another off-road tourist destination in Vagamon! The Memuttam hills can be reached only by off-road bike riding or on Jeep Safaris. But the beauty of the landscape is worth the ride! It is also an excellent, trekking destination.
Elappara View Point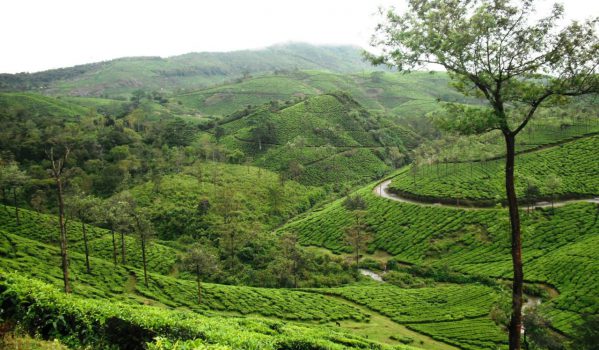 Are you thinking of paragliding in the Vagamon mountains? Elappara is a well-known paragliding destination and one of the best Vagamon attractions to see. Its also known for its vast tea plantations. A calm breeze prevails here always as the place is situated 1000 metres above sea level. 
For free travel consultation through WhatsApp. Contact us now.
Options: Swift DZire, Innova, Tempo Traveller (12 to 19 Seater), Coaches.
Marmala Waterfalls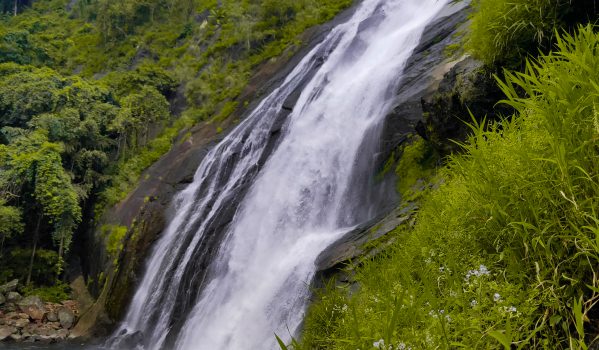 A stunningly beautiful waterfall located in the Erattupetta route! The Marmala waterfalls is a not so explored tourism destination near Vagamon. The fantastic view of the waterfall is a refreshing experience to the mind and body. It is the right spot for trekking as well. 
Sahyadri Museum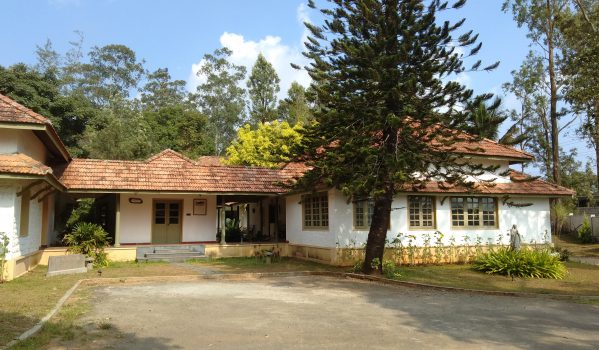 Heres an insight into the ancient, rich and varied culture and heritage of the high ranges! The Sahyadri Museum is an initiative of the Peermade Development Society and one of the best Vagamon visiting places. The Museum showcases the physical and political history of the Idukki District.
Madammakkulam Waterfalls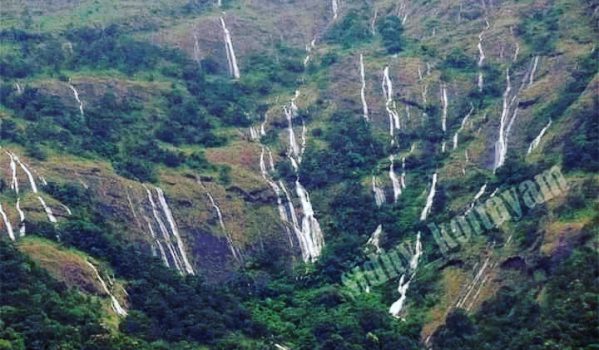 Hidden amidst the towering peaks of Peermedu is the Madammakkulam Waterfalls a tourist place which lies near Vagamon.  Surrounded by deep woods on all sides, Madammakkulam Waterfalls is a beautiful picnic location in Idukki. There is a natural pond under the water cascade, and the place is rich in smaller wildlife. A cool spot to enjoy nature!
For free travel consultation through WhatsApp. Contact us now.
Options: Swift DZire, Innova, Tempo Traveller (12 to 19 Seater), Coaches.
Urumbikkara Top Station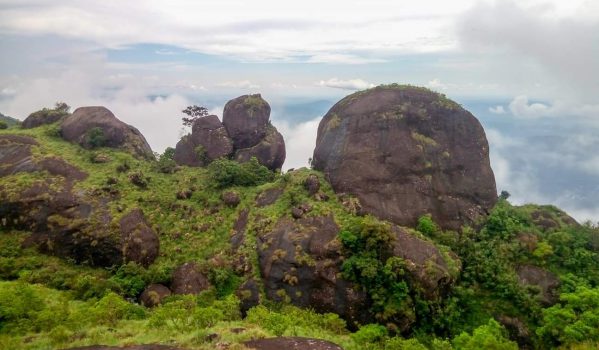 Check out the gorgeous view of the grasslands and valleys visible from the Urumbikkara Top station! It is the favourite tourist spot in Vagamon. Many tourists come here to see the jaw-dropping view of the vast Tea plantations, Cardamom plantations, waterfalls, rocky hills and suicide points, all visible from this vantage point. Dense forests surround the Urumbikkara Top station at an altitude of 3500 ft above sea level.  
Aruvickachal Waterfalls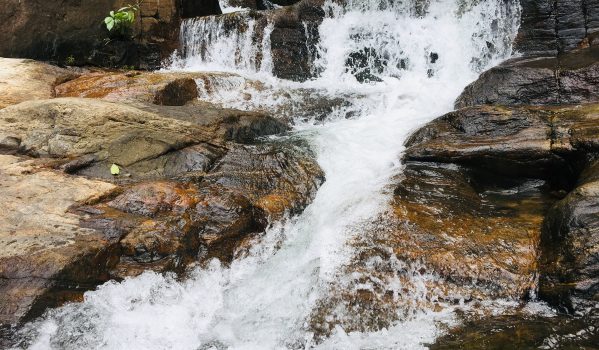 One of the most beautiful Vagamon tourist spots! Be one with nature at Aruvikkachal Waterfalls, at Pathampuzha Kottayam! Here the water cascades down a height of 82 feet and the waterfalls is regarded as one of the highest waterfalls in Kottayam. Hordes of tourists frequent the Aruvickachal waterfalls as it is rich in biodiversity.
Paragliding in Vagamon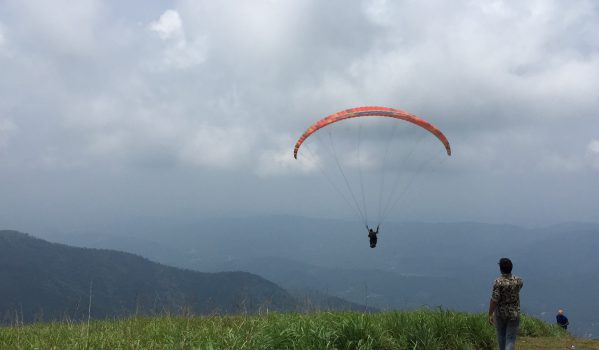 Take off and fly high in Vagamon! Bring on the thrills! Soar like an Eagle in the mist and explore the green meadows, tea estates, deep valleys and pine forests from the heights. All you need is a bit of courage! Vagamon is fast evolving as the paragliding hotspot. Every year, the paragliding Grand Prix is held here during September. And, the event brings together paragliders from across the world. 
Kolahalamedu hill, located 4km from Vagamon, is a perfect place for take-off and landing in paragliding. The mountain is over 3,000 feet in height, and the ride is 10 km long. Vagamon Paragliding is an exciting venture where experienced pilots will guide you in your paragliding expeditions. 
The best time for paragliding in Vagamon is February - March, as the climate at that time is highly suitable for paragliding. No paragliding events are held during the Monsoon time in Vagamon. Wear comfortable clothes and shoes and apply sunscreen before you go for paragliding.
For free travel consultation through WhatsApp. Contact us now.
Options: Swift DZire, Innova, Tempo Traveller (12 to 19 Seater), Coaches.
Places to Visit near Vagamon
Thekkady
When you think of a holiday in Thekkady, you think of the greenery, the exotic wildlife, waterfalls, jungle treks, boating and much more. One of the best places to see near Vagamon, Thekkady lies at a distance of 46 km from Thekkady. The Periyar National Park, the biggest Tiger reserve in India, is a major attraction here. 
An early morning ride in the boat within the sanctuary is a great experience, especially if you are in love with nature. You might be able to spot wild elephants, bison, wild boars, varieties of birds, etc. as they come out to drink water on the banks of the lake. The catchment area of Mullaperiyar Dam is one place where you can enjoy bamboo rafting. Thekkady is famous for its vast stretches of spice gardens and various adventure sports. A night Safari into the wilderness of the Periyar Wildlife sanctuary is an experience to remember a lifetime. Thekkady has good eating joints where you can taste the famed Kerala authentic cuisine. Anakara, Murikkady, Chellar Kovil and more such places are located nearby to enjoy nature. Thekkady has a lot of picturesque waterfalls and valleys that make your visit worthwhile!
Munnar
Enjoy an outing to Munnar, an incredibly beautiful hill station located near Vagamon! Nestled in the winding terrains of mountains of the Western Ghats, Munnar lies at the confluence of three Rivers - Muthirapuzha, Nallathanni and Kundala.  Munnar is a much sought-after travel destination with many tourist attractions to its credit. Vagamon to Munnar distance is 103 km and can be reached by hiring a Taxi. 
Munnar is a paradise for the nature enthusiast! A seemingly endless expanse of tea plantations, picturesque valleys, misty mountains, rolling meadows, exotic species of flora and fauna, dense forests, wildlife sanctuaries, salubrious climate & much more.
Eravikulam National Park, lofty Anamudi peak, Pallivasal and Chinnakanal falls, Pothanmedu, Attukal, Rajamala, Meenuli, Nadukani & Top Station all add to the popularity of Munnar across the globe. 
Kumarakom
The bewitching backwaters of Kerala welcome you to Kumarakom - a collection of small and scenic islands located at a distance of about 12 km from Kottayam. Being surrounded by the backwaters and dotted with emerald stretches of greenery, Kumarakom attracts travellers by the hordes to unwind and revamp. 
You can see a variety of flora and fauna here. Streams lined by Palm trees, Coconut groves and paddy fields together offer a fabulous view to behold. Kumarakom Bird Sanctuary is one of the most famous bird sanctuaries of Kerala. The Bird Sanctuary is visited by a wide variety of migratory birds and Siberian Cranes every year. Kumarakom has several attractions on offer. The tourism hotspots in Kumarakom are the beautiful Vembanad Lake, Aruvikkuzhi Falls, Backwaters and the Beach. The Bay Island Driftwood Museum, Pathiramanal & Juma Masjid are only a few of the main attractions in Kumarakom. There are several temples near Kumarakom like the Ettumanoor Mahadeva Temple, Vaikom Mahadeva Temple & the Thirunakkara Mahadeva Temple. There are many Christian pilgrimage sites in and around Kumarakom like the St. Marys Church at Cheriapally & the St. Marys Church at Athirampuzha.
Visiting all these places is covered on a houseboat cruise through the backwaters. 
Kovalam
Check out the breathtakingly beautiful Kovalam - a paradise of peace and tranquillity! Kovalam is an idyllic beach destination in Gods own country near Trivandrum. It offers three curve shaped beaches - Lighthouse beach, Samudra beach & Hawa beach with stony outcroppings.
The southernmost part of lighthouse beach is lined with a series of shops and shacks. Right from Curios, Kashmiri and Tibetan products, beachwear to Ayurveda massages you get everything here. Between the surplus of restaurants and hotels, do brisk business during peak tourist season. Vagamon to Trivandrum distance is 185 km, and you can reach there by hiring a cab.
Kuttikkanam
Its the place to be if you are a nature lover! With its mist-laden hills, green Tea and Cardamom estates, dense woods, beautiful waterfalls and cool weather Kuttikanam is one of the best places to see near Vagamon. The Peeru Hills, Thrisangu Hills or Baker Hills & the Nallathani river are scenic places and tourist hotspots near Kuttikkanam to enjoy the natural beauty. Parunthupara or Grampi is a rock sculpture, another tourist spot near Kuttikkanam. Panchalimedu, which is believed to be one of the hiding places of the Pandavas and their spouse Panchali is another tourist attraction here.
For free travel consultation through WhatsApp. Contact us now.
Options: Swift DZire, Innova, Tempo Traveller (12 to 19 Seater), Coaches.
10

Interesting questions on Vagamon 
How to travel from Alleppey to Vagamon?
Taking a taxi from Alleppey to Vagamon is the fastest option and takes around 1h 53m.   
How to travel from Thekkady to Vagamon?
Vagamon To Thekkady is 56 km, and you can follow the  Thekkady - VandiPeriyar - Peermade - Elappara - Vagamon route to reach here by hiring a cab.
How to travel from Ernakulam to Vagamon?
You can hire a cab from Ernakulam to Vagamon, and it takes a 3.5 hr journey to reach there, or you can go by train till Kottayam railway station and then take a cab from there to Vagamon.
How to travel from Kochi Airport to Vagamon?
Kochi International Airport is about 94 km away from Vagamon & you can hire a taxi from the airport to reach Vagamon in 4 hrs.
How many days to spend at Vagamon?
If you come to Vagamon with four days to spare, you can leisurely explore the place and enjoy all activities. One day each can be dedicated for hiking, paragliding, tea plantation visits, visiting waterfalls and other viewpoints.
Is Vagamon better than Munnar?
If you are looking for a peaceful vacation away from the crowd, youll find Vagamon your ideal choice than Munnar as lots of unspoilt natural beauty is there. But Munnar has a lot more attractions to see.
Is Vagamon safe?
Yes, Vagamon is safe and comfortable to visit during peak seasons of winter & summer.
Is Vagamon a Hill station?
Yes, Vagamon is a small hill station lying 1100 ft. above sea level
Which district is Vagamon in Kerala?
Vagamon lies in the Idukki District of Kerala. 
What is Vagamon famous for?
As one of the best hill stations in Kerala, Vagamon attractions include its rolling meadows, Vagamon waterfalls, Old water tunnels, Kurishumala, Thangal para, Vagamon Lake, Pine forest, Murugan para, Suicide point and tea estates.