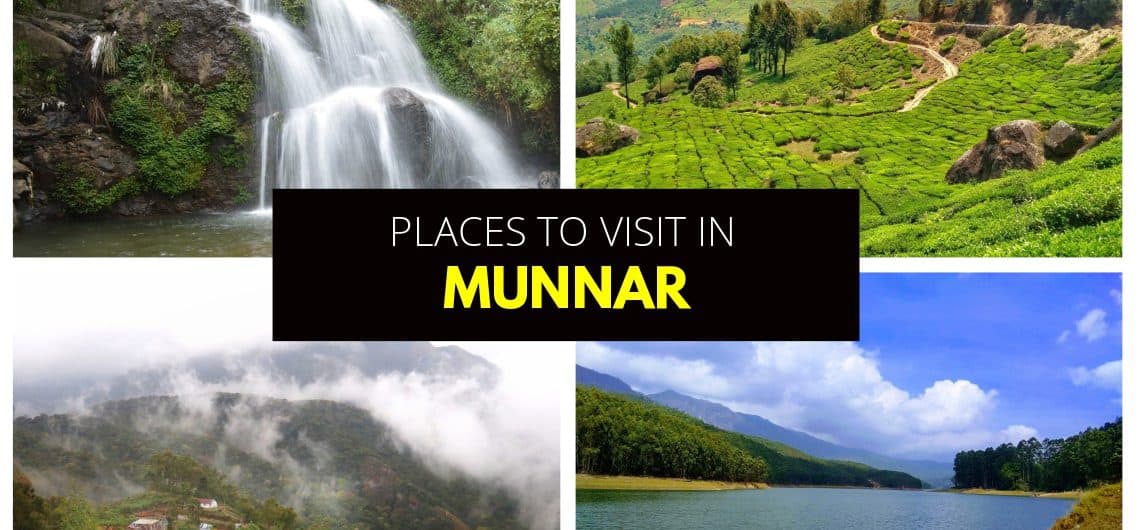 Welcome to Munnar! Get ready for a fun-filled vacation in the lap of nature at Munnar! Munnar offers you a golden opportunity to feel rejuvenated by the glorious sight of greenery of the famed Tea plantations, mist-clad mountains, shimmering lakes & cascading waterfalls and more! The name Munnar originates from the words Moonu (three) and Aaru (river), referring to the location of the town at the convergence of Madhurapuzha, Nallathanni and Kundaly rivers. Munnar is a great tourist destination popular with nature lovers, wildlife enthusiasts, honeymooners & adventure enthusiasts.
You'll need 5-6 days to visit every place in & around Munnar. But if you hire a taxi, you could visit attractive spots, like the tea gardens, Photo viewpoint, Mattupetty Dam, waterfalls and other top attractions in three days. All these sights make you want to come back for more.
Cochin & Coimbatore are metro cities that are reachable from Munnar. You can hire a cab or take a bus to Munnar from Cochin city or Aluva. There are Taxis for hire available from the Cochin International Airport and Coimbatore Airport to reach Munnar.  To go sightseeing in Munnar, most people prefer taking a cab as the best places to visit in Munnar are located far off. Cycling on the winding roads is another way to see places like Tea plantations.
Is Munnar safe is a question faced by tourists. Munnar is relatively safe to visit if you follow the rules and do not go in forbidden trails.
Why Visit Munnar?
Munnar has everything that appeals to the discerning traveller! Check out these options.
Be one with nature!
 If you're a nature lover, your favourite places to visit in Munnar will be the wildlife sanctuaries in and around Munnar! You can enjoy sightings of diverse flora and fauna while exploring these sanctuaries like the Rajamala Wildlife Sanctuary, Kurinjimala Sanctuary, Pampadum Shola National Park, Chinnar Wildlife Sanctuary and the Thattekad Bird Sanctuary.
Set the Adrenalin racing!
Munnar is a hot favourite for the adventure buffs as the best place to indulge in adventure activities! Set your Adrenalin racing with Paragliding at Munnar peaks, a great experience which makes you feel like walking in the clouds! For trekking enthusiasts, Anamudi Peak, Rajamala Hills, Top Station and Devikulam has good trekking trails and are amongst the best places to see in Munnar. 
A gourmet's delight
Munnar is a gourmet's delight if you feel like pampering your taste buds with great seafood delicacies and hot snacks. Try out these Munnar specialities while you are there for your holiday. 
Romantic boating at Munnar
Boating in the Munnar lake is a romantic experience which you must have when you are at Munnar! The Mattupetty Dam at an altitude of 1700m from sea level, and is a great crowd puller for tourists. and there are paddle boats, speed boats and Kashmiri-Shikaras to choose from for the boating of your choice.
Drink in the beauty of the Tea plantations and waterfalls
Munnar has known the world over for its verdant tea plantations and its amazing waterfalls. A visit to Tata Tea Museum is a must-have in your Munnar itinerary! Many scenic waterfalls dot places in and around Munnar like the Atukkad Waterfalls, Lakkam Waterfalls, Nyayamakad Waterfalls are a few other small waterfalls.
For free travel consultation through WhatsApp. Contact us now.
Options: Swift DZire, Innova, Tempo Traveller (12 to 19 Seater), Coaches.
Where is Munnar?
Munnar is an idyllic hill station in the Western Ghats of Kerala. Located in the Idukki district of Kerala, Munnar is positioned at the juncture of Muthirapuzha, Nallathani & Kundala rivers. Munnar is at the height of around 1,500 m to 2,695 m above sea level and is easily accessible from Kochi and Coimbatore.
How to reach Munnar?
Air: The nearest airport to Munnar is the Cochin International Airport, which is 110 kilometres away by road. From Cochin Airport, you can hire a cab to get to Munnar. The Madurai International Airport lies 140 kilometres away from Munnar. From Madurai International Airport, you can hire a taxi or take state transport or private buses to get to Munnar.
Rail: Aluva is the nearest railway station from Munnar at a distance of 110 km from Munnar. The Ernakulam Railway Station is 130 km away & the Madurai Railway Station is 135 km away. You can either hire a cab or board the state transport or private buses to travel to Munnar.
What is the best time to visit Munnar?
The salubrious climate of Munnar makes it a perfect holiday destination almost throughout the year. Most seasons Munnar weather is pleasant, and you can plan your trip any time of the year.
December to February
Winter is the best season to visit Munnar for a honeymoon or vacation since the weather is delightful. The minimum temperature drops to 100 C. Adventure enthusiasts can also have a gala time as they can enjoy adventure activities like rock climbing, trekking and more. Do carry warm woollen clothes with you as the evenings can get quite cold. 
March to May
The summer months of March to May are also quite pleasant, as the temperatures range between 19 – 350 C. Enjoy your summer at Munnar with sightseeing and visiting tea estates the best places to visit in Munnar. Don't forget the Tata Tea Museum! You may carry light cotton & remember to take an umbrella as rain showers are common during the summer months.
June to September
If it's a quiet vacation in your mind, then the monsoon season is the best season to visit Munnar.  The whole hill station is covered with lush greenery that adds to the charm of Munnar! You can enjoy huge discounts on hotel tariffs and the solitude of Munnar without hordes of tourists disturbing you. Also, do remember to carry an umbrella or raincoat as it will be raining heavily.
For free travel consultation through WhatsApp. Contact us now.
Options: Swift DZire, Innova, Tempo Traveller (12 to 19 Seater), Coaches.
Amazing places to see in Munnar
Trekking
Green Munnar beckons you to enjoy the beautiful nature with your friends and family! The Munnar peaks have amazing and exciting forest trekking trails to drink in the picturesque beauty of this place. Some of the exciting trekking trails are Anamudi Peak, Rajamala Hills, Top Station and Devikulam. You get to explore the vivid flora and fauna as well as indulge in nature photography to your heart's content in these trekking trails
Top Station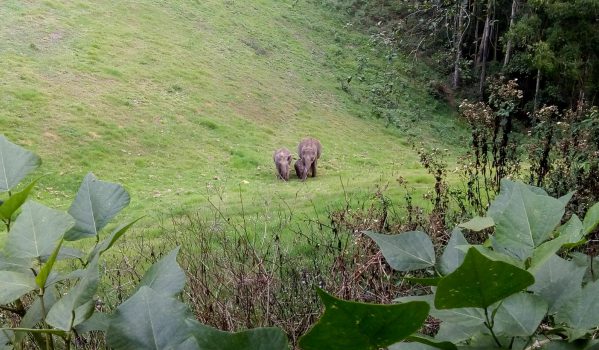 Enjoy the magnificent beauty of the Top Station with your loved ones and revel in the magical scenery of the place! Anything for that great feeling being at the top of the world with clouds touching your face! Top Station, the topmost point in Munnar offers a breathtaking view of the Western Ghats.  It's a splendid sight to see when the Neelakurinji flowers bloom here once in every twelve years! You can enjoy hiking, sightseeing & photography here at Top Station, one of the best places to see in Munnar!
Eravikulam National Park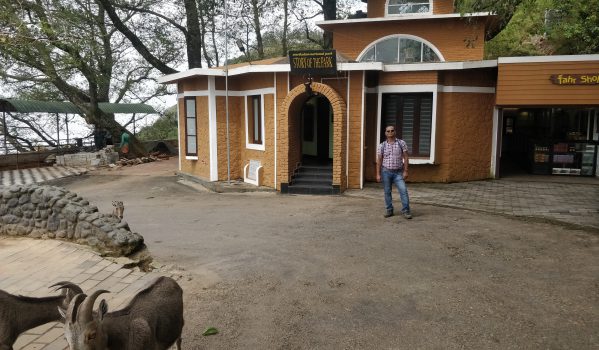 A nature lover's paradise and one of the best places to see in Munnar! Eravikulam National Park is a 97 sq. Km dense forest area that has spectacular hillocks, verdant rolling meadows, and small perennial streams.  As the nature park has several species of rare butterflies, animals, and birds, you'll enjoy trekking here. If you're lucky, you can get a glimpse of the Nilgiri Tahr – an endangered species of the goat on the green slopes of Munnar. Eravikulam National Park brings you an enchanting view of the tea plantations and the lofty misty peaks. The whole park takes on a sheen of blue once the Neelakurunji flowers are in full bloom. Indeed a beautiful sight for tourists to Munnar, the slopes are covered by a carpet of blue, which is a magnificent sight for the travellers!
Sights & Landmarks
Munnar Tea Garden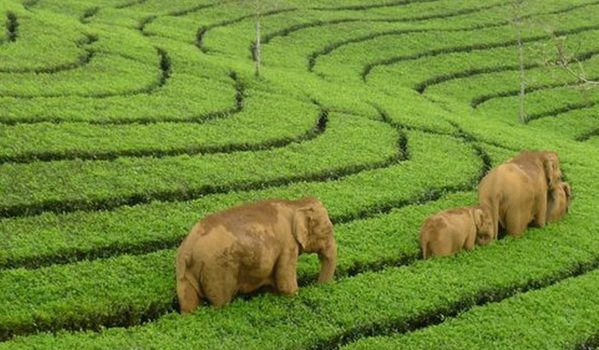 The Tea Gardens of Munnar hold a unique charm thanks to their undulating lush greenery! The slopes of Munnar covered with the cropped Tea bushes is undoubtedly a sight to cool your tired eyes! Munnar is home to more than 50 most beautiful Tea plantations in India. These gardens were initiated in the 19th century by the British who considered Munnar as their summer resort.  Today Harrison Malayalam, Michael's Tea, Brooke Bond, and AVT Tea are the most reputed Tea gardens in Munnar. A Tea plantation visit to see for yourself the making of Tea should be included in your visit to see the best places to see in Munnar. 
For free travel consultation through WhatsApp. Contact us now.
Options: Swift DZire, Innova, Tempo Traveller (12 to 19 Seater), Coaches.
Mattupetty Dam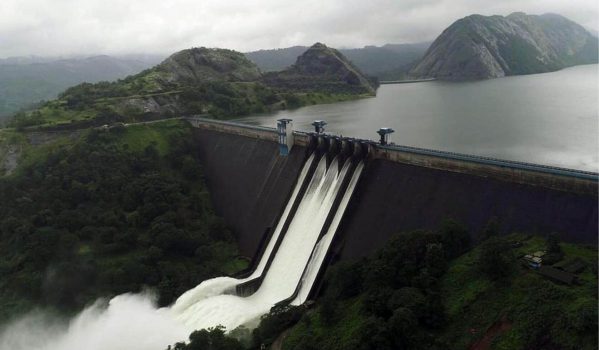 Nestled in the hills of Munnar near the Anamudi Peak, Mattupetty Dam site is excellent to be one with nature. It is situated about 13 km from the Munnar town at an altitude of 1700 m above sea level. Mattupetty is renowned for its storage masonry dam and the enchanting lake 
The Mattupetty dam is a part of the Pallivasal Hydro-electric project in the 1940s and now powers the energy requirements of Munnar. When you go boating in the lake, you can enjoy magnificent views of the surrounding hills and beautiful landscape. There is also a dairy farm run by the Indo-Swiss Livestock Project, with different high yielding breeds of cows at Mattupetty.
Chithirapuram View Point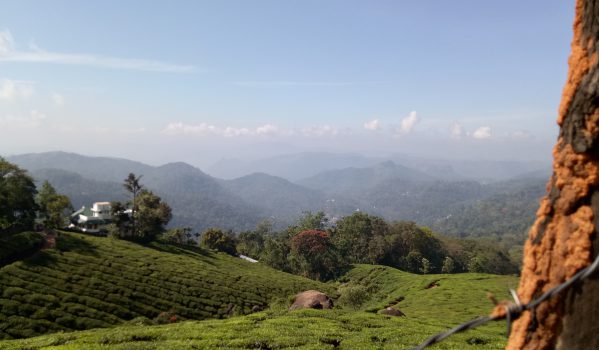 One of the top attractions of Munnar! An old-world charm makes Chithirapuram special! The sleepy little town has cottages, bungalows, tea plantations, old playgrounds and courts for those in search of peace and solitude away from the hustle and bustle of the day to day life. Cycling enthusiasts can have a real thrill on the winding roads here. Chithirapuram View Point offers enthralling views of the sunset, lush green plantations & waterfalls.
Echo Point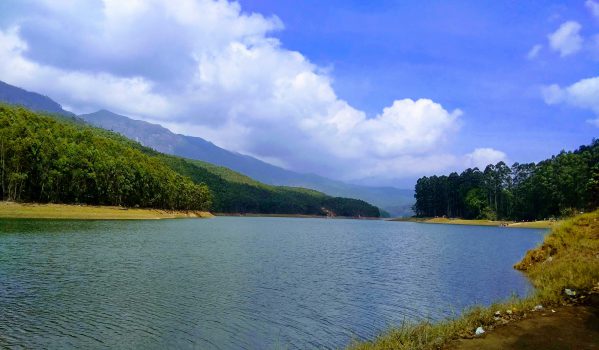 Isn't it just great to hear the mountains talk back to you! Echo Point at the height of 600 ft above sea level is located 15 km from Munnar. Since it is situated at the juncture of three mountain ranges near a lake, Echo Point has a natural echo phenomenon. It is one of the top attractions in Munnar as people come there to hear their voice reverberate around again and again. Echo Point has magnificent natural beauty as you can enjoy the panoramic vistas, high mountain air & the misty hills. You can go for solitary walks here or boating in the calm waters of the lake. The Echo Point is just the place for photography, boating, trekking, nature walks, birdwatching and more.
For free travel consultation through WhatsApp. Contact us now.
Options: Swift DZire, Innova, Tempo Traveller (12 to 19 Seater), Coaches.
Photo Point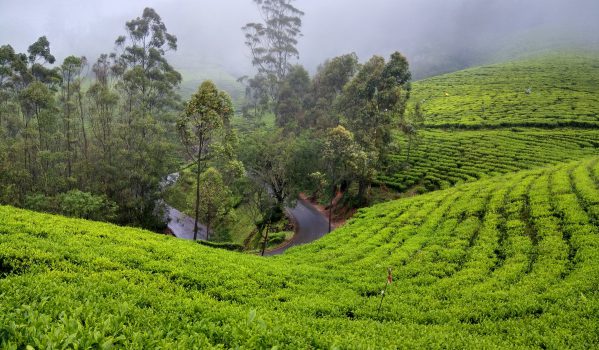 Bring out your photography skills to capture the perfect photo of your Munnar holiday at one of the best places to see in Munnar – the Photo point! It is a picturesque spot with the striking backdrop of the stretches of tea gardens, the glistening silver oaks and rolling meadows. It's a beautiful sight to behold the blue skies making a sharp contrast against the greenery of the tea gardens and the lake! The Photo Point is a great picnic spot and filming destination and has been the setting for many a film.
There is not much to see here, but the route up to the Photo Point is really out of this world with its natural beauty and makes the entire journey worth it. The area is also known for aromatic spices. 
Attukad Waterfalls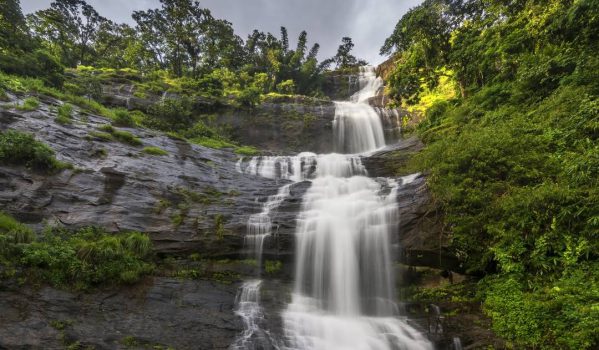 The jaw-dropping beauty that attracts you with its sheer magnificence – The Attukad waterfalls at Munnar is one of the best places to see in Munnar! As the waters cascade down through the rocks, they mesmerise you with their captivating beauty. It's just the very spot for picnics and a great trekking destination as it has a long trekking route instead. The waterfall is located between Munnar and Pallivasal in Idukki District and is a tourist puller with its dense jungle setting. The waterfall is reachable only through a wooden bridge, and it's a spectacular sight to view the waterfalls from the bridge! Quite awesome! 
Nyayamakad Waterfalls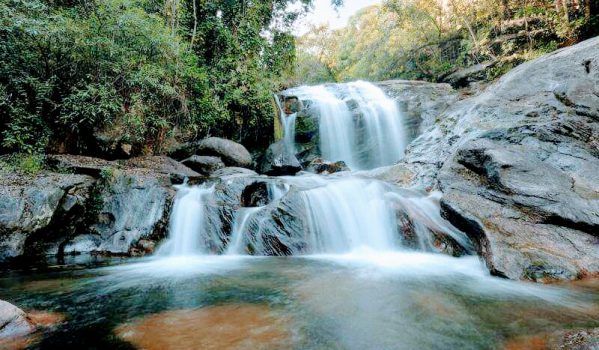 One of the best places to visit in Munnar! Take in the breathtaking beauty of the Nyayamakad waterfalls with its shimmering cascade of water falling down a height of 1600 meters into a shallow pool. An exotic collection of native flora and fauna make this waterfall, a preferred choice for tourists worldwide. 
Situated between Munnar and Rajamala, waterfalls is at a distance of 10 km from the town. When you walk up the Nyayamakad falls, you can take in spectacular vistas of the Munnar town and the sprawling tea gardens. Check out the most exciting trekking opportunities amid verdant tea plantations and sandalwood forests near the Nyayamakad falls!
For free travel consultation through WhatsApp. Contact us now.
Options: Swift DZire, Innova, Tempo Traveller (12 to 19 Seater), Coaches.
Museum
Lockhart Tea museum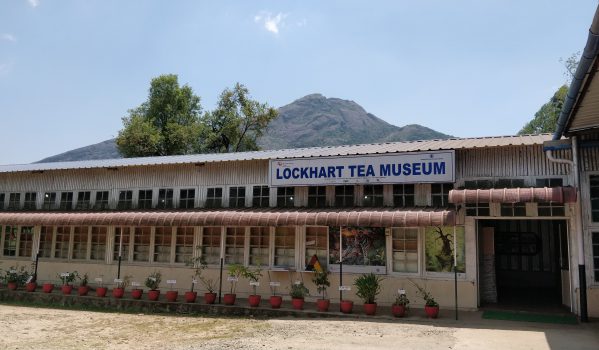 Get ready to set out on a historical journey through the origins and evolution of tea plantations at the Lockhart Museum, Munnar!  Munnar is famous for its Tea plantations which were started by the British in 1879. The Lockhart Tea museum incepted in 1936, has many artefacts and literature to take you through all the facets of the evolution and growth of tea plantations in the high ranges of Kerala.  The Lockhart Tea Museum has many artefacts, photographs, and machinery associated with Tea manufacturing and is one of the most important places to visit in Munnar.
Tourist Attractions
Dreamland Fun & Adventure Park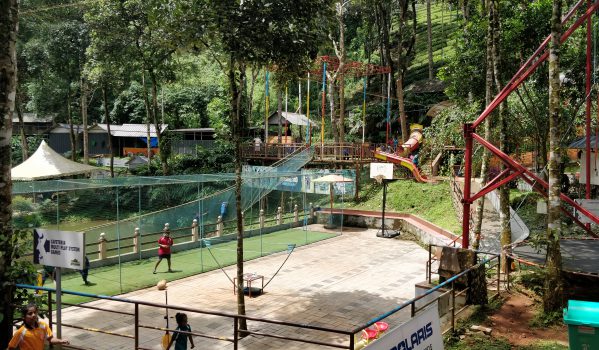 Dreamland Fun & Adventure Park – your destination to have fun and adventure at Munnar! The Adventure Park at the height of 6000 ft from sea level has 40 + activities to escalate your excitement to the next level. There are diverse adventure activities for individuals as well as for groups at Dreamland. 
You can have a fling at the many rides like Slingshot, Burma Bridge, Mechanical Bull ride, Human Bungee Trampoline, Polaris ATVs, Rope Way, Sky Walk, Belt Swing,  Suspension Bridge, Horror House, 7D Theater – pick your choice to have fun & adventure at the hills of Munnar! 
The Blossom International Park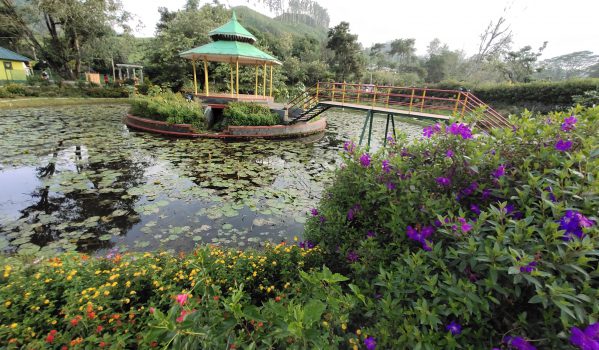 Blossom Hyde Park, one of the top attractions of Munnar, invites you to be one with nature to rejuvenate your mind and body! Nestled in the lap of life on the banks of river Muthirapuzha, the park is located 3 km from Munnar. The Blossom International Park is a nature and wildlife lovers' paradise as it is home to a large variety of flora and fauna like a variety of migratory waterbirds & mountain butterflies. 
The park has many picturesque gardens, artificial waterfalls, fountains and lawns set out with replicas of exotic birds & animals, that makes it a great picnic spot for family and friends. It is also an ideal spot for adventure trails, boating, nature walks, bird watching, roller skating, badminton, campfires. One of the best places to see on your Munnar trip!
For free travel consultation through WhatsApp. Contact us now.
Options: Swift DZire, Innova, Tempo Traveller (12 to 19 Seater), Coaches.
Places to visit near Munnar
Anamudi 
A favourite haunt for Adventure lovers! Anamudi, the tallest peak in South India, stands proud at an imposing height of 2695 metres at the famous Eravikulam National Park. It is densely covered with evergreen forests and has rare species of fauna, flora and vibrant migratory birds.
At the slopes of the Anamudi peak, you'll be able to see the Nilgiri Tahr, Gaur and Elephants roaming about. A great spot for trekking, it's also a top destination for wildlife lovers, adventure enthusiasts and photo fanatics. Anamudi peak is one of the most loved tourist attractions in Munnar. Anamudi offers excellent photographic opportunities as you can have fantastic views of the surroundings & wild animals and colourful birds in their natural habitat.
Kolukkumalai Tea Estate
Take time off to visit the Kolukkumalai Tea Estate, one of the most beautiful destinations in Munnar! The highest elevation Tea plantation in the world is at 7900 feet from sea level. Kolukkumalai is where you get a taste of pure organic Tea grown in pollutant-free air. 
The plantations were started in the early 1900s & Tea leaves are hand-picked and processed using the traditional method in the old Tea factory using the age-old machinery set up by the British. The Tea Factory has a 'Make your Tea' programme that allows visitors to pick Tea leaves and process to make their cup of Tea.
Thekkady
If you're in for a jungle vacation, Thekkady is the place for you! The largest Tiger Reserve in the country – Periyar Tiger Reserve is located here and is a great place to visit near Munnar. The catchment area of Mullaperiyar Dam, in reserve, offers Bamboo rafting opportunities. When you go for an early morning boating in the lake, you might be able to spot wild elephants, Bison, wild Boars, various kinds of birds etc. You can enjoy various adventure sports activities like a night trek or go hiking amongst vast stretches of spice gardens. Thekkady is also famous for its good eating joints. To reach Thekkady from Munnar, you can catch a bus or take a cab as Thekkady does not have a Railway station.
Kumarakom
Be one with nature at Kumarakom, one of the main tourist destinations in Kerala near to Munnar! The very place to relax and rejuvenate, the beautiful Kumarakom has greenery all around! You can see extensive stretches of paddy fields, backwaters, canals and mangroves, which all make Kumarakom the perfect destination to de-stress! A great place where thousands of migratory birds come to nest, the Kumarakom Bird Sanctuary is a bird lovers paradise. Leisurely houseboat cruises through the backwaters of Kumarakom can be a refreshing experience for you. 
Alleppey
Take in the beauty of the backwaters of Kerala! Alleppey known as the Venice of the East is all about serene backwaters, golden beaches, and lagoons. Alleppey, an easily reachable destination by car from Munnar, is reputed for its houseboat cruises and Ayurvedic resorts dotting the place. On the houseboat cruises that pass through the tranquil backwaters, you can get glimpses of local village life in Kerala – Coir making activities, beautiful migratory birds, green paddy fields. The traditional Snake Boat Race here in August and September is a great event not to be missed!
 Bluebird Travels, a leading Tours & Travels Co. in Cochin brings to you tour packages to experience the best places to visit in Munnar. Contact us today if you are planning a Munnar holiday with your loved ones.
For free travel consultation through WhatsApp. Contact us now.
Options: Swift DZire, Innova, Tempo Traveller (12 to 19 Seater), Coaches.